Agri Inputs
Featured
News
RMG Ghana bails farmers in Sissala out with subsidized fertilizer, hybrid seeds and weedicides
All countries in the world depend on agriculture to feed its citizenry, however with the advent of Covid-19 which has led to economic down turns in most counties, feeding the people will be a huge challenge.
Farmers in the country have expressed worry that with the advent of Covid-19, there is likely going to be scarcity of food in the country.
However, a farmer based organization, RMG Ghana limited is allaying the fears of farmers and the public by the launch of Feeding Ghana after Covid-19 programme at Kowie in the Upper East region.
Arguably, the twin Sissala areas are the food basket of the Upper West region.
Though roads to the farms and market centers are unmotorable and inaccessible, they have been able to produce cereals like maize and soya bean in several thousands of tonnes every year to feed themselves and also for commercial purposes.
In fact over seven hundred thousand bags of maize was produced in 2019 from the enclave.
Over the years farmers in the area have been supported to achieve that feat by private companies like RMG Ghana limited who are registered under government planting for food and jobs programme.
However, in the midst of the Covid-19, which has wreak havoc and halted growth of several  economies in the world, the people are at a fix, scared and confused  wondering whether they will be able in to go in to their good old profession now that that rains are here.
There are even speculations that they will be scarcity of food and the people fears they may not be able to feed themselves let alone thinking of commercial purposes.
RMG Ghana limited has, therefore, come to the rescue of the people with the launch of the Feeding Ghana after Covid-19 programme.
They handed over subsidized fertilizer, hybrid seeds and weedicides to over 42,000 small holder farmers in the Sissala East Municipality and Sissala West District.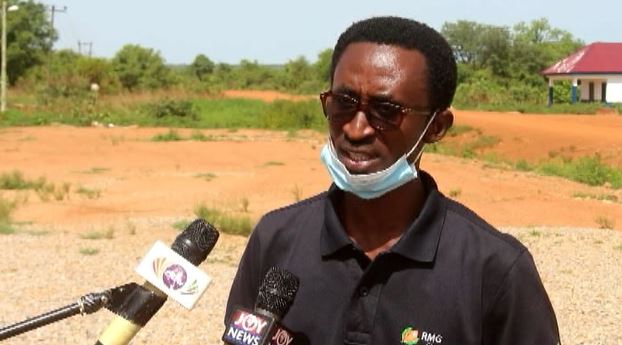 Asare Badiako, the Project coordinator of RMG allayed the fears of the public that they there is hope.
Upper West Regional minister, Dr. Hafiz bin Salih who launched the programme was grateful to RMG Ghana for coming to the aid of the people.
Some of the farmers expressed their joy over the launch of the project saying that it will improve their economic wellbeing.