John Deere is a 2021 CES Innovation Award Honoree for X9's design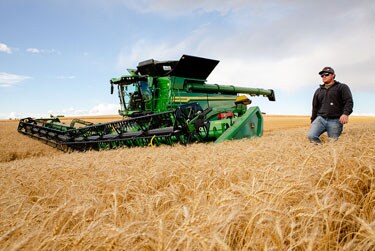 Three weeks. That's how long Caley Farms in the United Kingdom has to harvest its winter wheat. To make it doable they needed a more productive combine.
This year the farm put John Deere's new X9 combine and its increased harvesting capacity to the test and found it was more than up to the challenge, said Scott Melton, manager at Caley Farms.
"We're now doing double the work to what we were doing with a S690," Melton explained, referring to the farm's older John Deere combines. "It's unheard of. It's going against everything we've done for the last 13 years, so we're very pleased."
Melton is not alone in praising the X9, which has received numerous awards over the past year since it first debuted at 2019 Agritechnica where it received a silver medal.
Now the machine has earned an award from CES, which for the second consecutive year has named John Deere an Innovation Award Honoree. The X9 won in the robotics category, which highlights programmable or otherwise intelligent machines. The upcoming 2021 CES show will be held virtually the week of Jan. 11.
Jason Healy, the chief engineer whose team helped lead the X9's design, said they conducted many ongoing focus groups with farmers from across the world, including Melton, as they gathered their feedback and continued to implement changes.
So how does it feel to Healy now to hear those farmers' reactions and see the X9 being honored by CES and others?
"I'm certainly elated by the recognition the X9 has received," Healy said. "To hear the absolute 'wow' from these farmers is rewarding for the entire team. Knowing that a few more tweaks and refinements are coming Melton was still impressed and said, 'this machine ran flawlessly, I want this tomorrow, why do I have to wait?'"
Connor Kozlovsky, a product development specialist involved with X9 testing since 2017, has seen customer reactions to the combine first-hand in the field. He says its increased capacity, decreased fuel consumption and its ability to handle tougher conditions have all stood out to farmers.
"You can really see the X9 shine in those areas," he said. "Those are the highlights I've heard. It's nice to see the added value it's bringing to our customers. I definitely take a lot of pride in that."