It is really a story of several generations. The story that tractor is ZETOR. Seventy-five years has given us a necessary overview to evaluate and balance objectively. As time changes, so does ZETOR. We celebrate the history of the brand and let us be inspired by it, but we do not stick to it. We look ahead.
This year's anniversary of the ZETOR brand is a very important event for us. Its celebration will run throughout 2021. We have introduced a special logo, which we use on a wide range of materials, from printed and electronic communications to promotional items and other POS materials. For the whole year, you will also be encountering a visual which was created for the event of ZETOR's 75th anniversary. It depicts the long tradition and heritage of generations. We have launched a website www.zetor75.com summarizing the history of ZETOR tractors production with its most important milestones, including period photographs and videos. In connection with the anniversary celebrations, an exhibition is also being prepared at the ZETOR GALLERY. Although the current situation limits the form and scope of the celebration, we believe that the second half of the year will be more favorable and the celebration much more diverse. We want to remind all our business partners, customers, employees and fans of the brand's legacy, its long history, vision and plans for the future as much as the situation allows.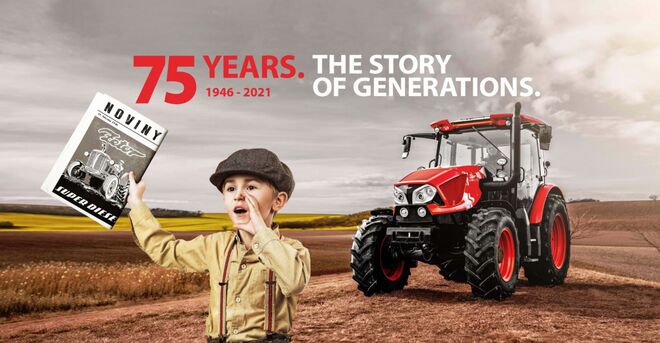 Over the past years, the ZETOR brand has been enriched again. It won new customers, entered new markets, dealt with many challenges and succeeded in gradual extension of the product portfolio totalling in the current eight model ranges with power from 20 to 170 hp. The ever on-going product innovation roots from the wishes of our customers. All this packed in elegant design ZETOR by Pininfarina which has been applied to all model ranges of tractors from 80 hp upwards since 2020.
The anniversary is an opportunity to thank all those who consider ZETOR their love brand and constantly help to take it ahead. From its origin to the present day, it has been several generations of those who have passed on their love and loyalty to the brand.
To keep you informed about the news concerning the 75th anniversary of the ZETOR brand and other news, stay in touch with us on our website, Facebook and Instagram.